Coffee Biscuits Recipe
Coffee Biscuits
by Lemon Drop from A Recipe Reborn
Prep time: 1 hour and 30 minutes
Cook time: 20 minutes
Yields 18 large cookies
Cookies
| | | |
| --- | --- | --- |
| US | Ingredients | Metric |
| 1 cup | butter | 227 g |
| ½ cup | whole roasted coffee beans | 50 g |
| 1 cup | sugar | 200 g |
| 2 | eggs | 2 |
| 1 tsp | vanilla extract | 5 mL |
| 3 cups | all-purpose flour | 525 g |
| ¾ cup | cornstarch | 100 g |
| 1 tsp | kosher salt | 6 g |
Put the butter in a small pot set over low heat and let it melt completely.

Add the coffee beans and let them soak in the butter for 1 hour over the lowest heat setting. More time will yield a stronger coffee flavour.

Strain the coffee beans from the butter and discard them.

Put the coffee butter in the refrigerator to cool and solidify.

In a large bowl, cream together the sugar and the coffee butter until they are light and fluffy.

Add the eggs and vanilla and mix until they are fully combined.

Add the flour, cornstarch and salt and mix until a crumbly dough forms.

Separate the dough into 2 to 4 balls, depending on the size of your work surface.

Place a ball of dough between two pieces of parchment paper and roll it out to ¼" or 6.5 mm thick.

Use a cookie cutter to cut out shapes and transfer them to a parchment paper lined baking sheet.

Chill the cut dough in the freezer for 10 minutes.

Preheat the oven to 325°F/163°C.

Bake the cookies for 6 minutes, rotate and switch the pan positions, then bake for another 6 minutes.

Let the cookies cool completely before decorating.
Caramel topping
| | | |
| --- | --- | --- |
| US | Ingredients | Metric |
| ¼ cup | water | 60 mL |
| 2 tbsp | finely ground coffee | 15 g |
| 1 cup | sugar | 200 g |
| ½ cup | water | 125 mL |
| ¾ cup | heavy cream | 177 mL |
| ¼ tsp | vanilla extract | 1.25 mL |
| ¼ tsp | kosher salt | 1.5 g |
| 2 tbsp | butter | 30 g |
Brew the ground coffee in ¼ cup/60 mL of water and set aside to cool.

In a small pot set over low heat, combine the sugar and ½ cup/125 mL of water. Allow the sugar to dissolve completely.

Set the heat to medium, cover the pot with a lid, bring it to a boil and let the solution cook for 5 to 10 minutes or until it turns golden brown.

Add the cream and whisk until it is fully combined.

Add the coffee, vanilla, salt and whisk until they are fully combined.

Take the pot off the heat, add the butter and stir until it is fully melted.

Allow the caramel to cool at least 1 hour before using it.

Decorate the cookies with the caramel.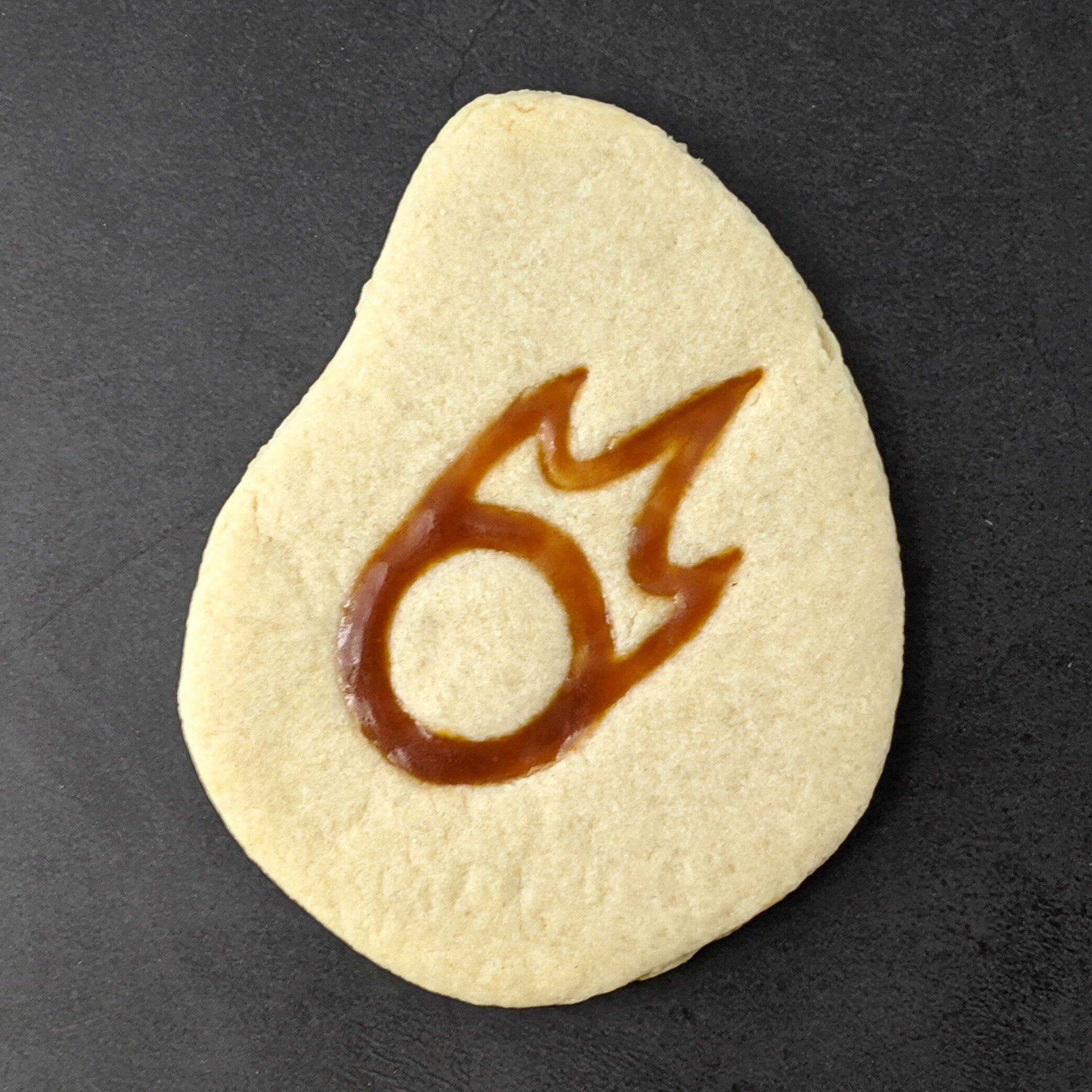 This recipe was created by adapting from: